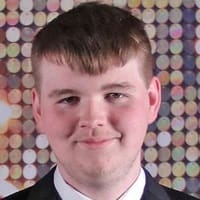 April 22, 2004 – December 27, 2022
18, passed away on Tuesday, December 27th, 2022 at his residence in Lewisville, TX.
Michael was born April 22, 2004 to Chastity Dixon (Chapman) and Christopher Mostrom at Medical Center of Mesquite in Mesquite, TX.
Michael graduated in May 2022 at Hennessey High School in Hennessey, OK. Michael's hobbies were working and playing on his Xbox. Michael was the most caring, kind-hearted, and loving kid I have ever known. He was also a hard worker. He loved his Family and his job.
Michael is preceded in death by his Great grand parents James and Mayme Chapman, Papa and Grandma Doyle and Elberta Chapman, his Nana Cindia Caroll and Grandpa and Grandma Hughes.
Michael is survived by his parents Chastity (Daphne) Dixon and Christopher Mostrom, his great grandparents Dan and Jo Holmes, his Papa Gary Caroll, his 4 Sisters Brittany Chapman, Makayla Mostrom, Autumn Mostrom, Carina Mostrom, Aunts: Elaina Rodriguez and Brandy (Lynn) Tims, Uncles: Doyle (Shannon) Chapman Jr. and James Chapman, Cody Warren, Shaun Branch and so many cousins and friends.