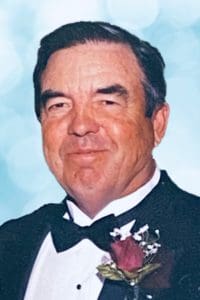 Bill Bodene Bingham of Ames, Oklahoma | 1939 – 2022 | Obituary
The funeral service for Bill Bodene Bingham, 83-year-old Ames resident, is 1:00 PM September 6th, 2022, in Your Family Church, 1301 N. Independence Street, Enid, OK. Burial will follow in the Ames Cemetery.  A visitation with the family is 5 PM-7 PM on September 5th in the Henninger-Hinson Funeral Home Chapel.
Bill was born April 16, 1939, to Josh and Guida (Taylor) Bingham at the family farm near Ames. He died Saturday, August 27th, in his home surrounded by his family. He graduated from Ames High School with the class of 1957.
On August 10, 1957, he married Donna Hollen who went on to be his wife of 61 years. The couple made their first home in Los Angeles,
California, where Bill worked at Safeway. The couple returned to Ames in 1961 to begin farming with his Dad, where he spent a lifetime working the land, raising livestock, instilling values, and shaping the lives of future generations.
Bill was a fierce competitor known for his Putt-Putt skills and his love of playing cards. He spent many hours with his sister.
Velinda enjoying these pursuits.
He is survived by his sister Velinda, children: William Bingham and wife Pam, Debbie Delgado, Ronnie Bingham, Sheila Trotter and husband David, David Bingham, and Kevin Bingham and wife Jennifer, numerous grandchildren and great-grandchildren.
Memorials may be made through Henninger-Hinson to Your Family Church.