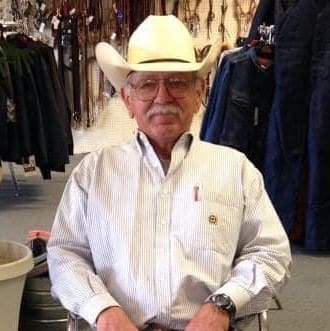 HENNESSEY
Memorial service for Danny Hajek, 75 will be at 1:00 PM Saturday, September 3, 2022, at First United Methodist Church officiated by Rev. P. J. Stewart. Cremation arrangements are by Cordry-Gritz Funeral Home.
Danny was born in Enid on September 28, 1946, to Joe and Helen Gabriel Hajek and died Thursday, August 18, 2022, at his home at Lacey.
Danny graduated from Hennessey High School. He served in the US Army during the Vietnam war.
He married Aronda Woolman in Vinita on May 18, 1976. Danny was a member of the Hennessey Powder and String Club.
Rodeo was always a part of Danny's life. From being a competitor trying all the events until he found his favorite-steer wrestling. When he quit competing, he started judging at rodeos and then found out he loved being a pickup man. He did that until he could no longer ride. He became a partner in Carpenter Rodeo for several years putting on local rodeos in Oklahoma and Kansas. Finally, he started raising bucking bulls. They were his pride and joy. He sold several bulls to Andrews Rodeo company with three of them going to the NFR. Two of them were top bulls winning him a buckle which he wore so proudly.
Danny is survived by his wife Aronda of the home; one daughter, Jena Fuller and husband Greg of Nazareth, Texas; one son James Hajek and wife Jill of Hennessey; two grandchildren, Jolie Fuller and Hagen Hajek, and three nephews, Brent Hajek, Scott Hajek, and Joey Hajek.
He was preceded in death by his parents and two brothers, Keith Hajek and Gary Joe Hajek.
Memorial donations may be made in his name to the First United Methodist Church Playground Fund with the funeral home serving as custodian.