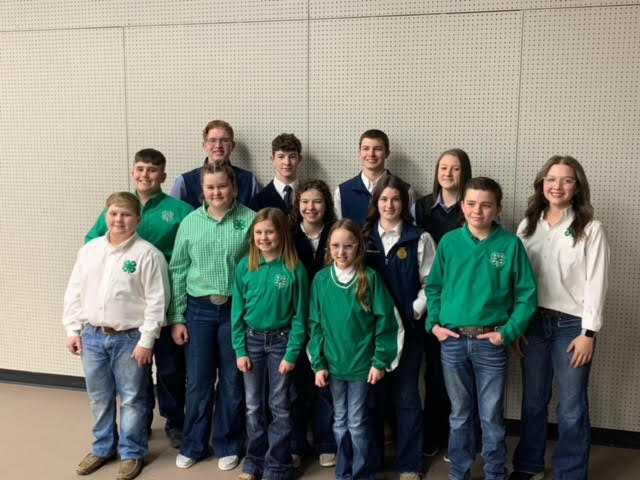 Hennessey FFA and 4-H members exhibited their livestock projects at the 2023 Kingfisher
County Spring Junior Livestock Show. Premium sale exhibitors included:
Kaden Kennedy- Grand Champion Steer, Champion Bred and Owned
Cade Charmasson- Grand Champion Wether Lamb, Grand Champion Ewe
Makenzie Hladik- Reserve Grand Champion Steer
Cale Dickens- Market Steers
Beau Whittenburg- Market Lambs
Adin Dickens- Market Lambs
Camden Dowell- Market Hogs
Amey Haymaker- Breeding Gilts & Market Hogs, Champion Bred and Owned
Kinslee Moeller- Breeding Gilts & Market Hogs
Hannah Swart- Breeding Gilts & Market Hogs
Paityn Koehn- Market Steers
Leah Dickens- Market Steers & Market Lambs
Jaryn Dowell- Breeding Gilts & Market Hogs
Also exhibiting was Harper Streck and Brooklyn Harris.
FFA and 4-H members are very appreciative of all the buyers' support, and donations made to
these hard working kids! We thank all of the buyers, and anyone who made a donation or add-on!
13 exhibitor premiums for a total of $28,275
Donations made by-
TNT Seed LLC
L&M Supply
H&H Equipment INC
Interbank
P & K Equipment
Cimarron Electric
Crimson Well Service LLC
Hennessey Veterinary Clinic
Hladik Farms
Seaboard Foods LLC
81 Cross Services LLC
CHS INC
Sooner Coop
Community State Bank
Dollar Trucking LLC
Eagle Propane
Earl & Candy Enix
Earnheart Propane LLC
Farmers Electric LLC
Gilliland Oil & Gas
Great Plains Kubota
Lightle Sand & Construction LLC
NBC Bank
Razook Pharmacy LLC
Turkey Creek Golf Club
Oklahoma AG Credit
Sidwell Insurance
Pioneer Trucking
BancFirst
Jones Farms
Peach Farms
Roger & Cindy Pribil
Weaver Energy Corp
20/20 Oil & Gas
Dixie Wireline
Dunkin Energy Services
Energy Meter Systems
Kings Rental LLC
Mark & Angie Snodgrass
Rother Bros
Choate OIlfield Service
Dowell Plumbing LLC
Farm Bureau INS, – Jack Choate, Agent
K&M Oil Co
Painter Insurance
Bob & Marie Stewart
Sparky's Eatery
4-T's Discount Grocery
Bison Coop Assn
Eagle Mart
Larry & Debbie Hays
Mauck Farms
Mike Harris
R & H Trucks and Autos LLC
Vincent Mesis JR. P.C.
Wheeler Brothers Grain Co.