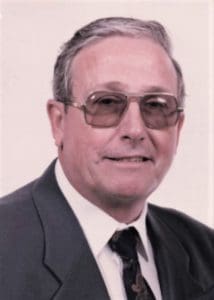 HENNESSEY On January 11, 2023 the Heavens opened and Harold Glenn was able to see Jesus sitting at the right hand of God. He died peacefully surrounded by his wife and loved ones Wednesday January 11, 2023.
Harold was born on February 3, 1937 in Plainville, Kansas to Ralph and Erma Glenn. He was the youngest of three children. Harold learned to work hard at a young age. As a young boy he delivered newspapers and worked at a bakery.
He lived in Brush County and Rawlins, Wyoming growing up. In his teens he moved back to Plainville, Kansas to live with his aunt and uncle. It was then that he met Lorna Harrison whose bubbly personality swept him off his feet.
He and Lorna were married March 5, 1955. They raised two daughters together Cheryl Denise and Cathy Dawnette.
Harold was a man of integrity. He was very straight forward. He said what he meant and meant what he said.
He loved to take trips on his motorcycle. He and Lorna practically saw the whole country on his bike. Harold loved the Oklahoma Sooners but most of all loved his family.
He leaves behind his wife Lorna; one daughter Cheryl Vaverka and husband Jesse of Hennessey; one son-in-law Jay Culp of Cushing, one brother of Rawlins, Wyoming; six grandchildren and eleven great-grandchildren.
Harold was preceded in death by his parents, one sister, and his beloved youngest daughter Cathy.
Funeral services will be at 11:00 AM Monday January 16, 2023 at First United Methodist Church officiated by Rev. P.J. Stewart and Jimmy Berkenbile. Burial will follow at Hennessey Cemetery under the direction of Cordry-Gritz Funeral Home.
Memorial donations may be made in his name to the First United Methodist Church with the funeral home serving as custodian of the fund.