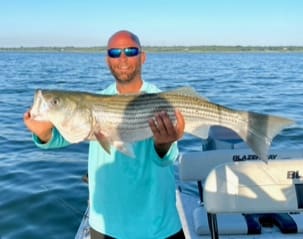 Zachary Lynn Snider was born May 21st, 1974 in Enid, OK to Jack & Karen Snider. He was peacefully called to Heaven on December 24th, 2022 surrounded by family.
From the time he was born, Zach was an ornery child with a big heart. If he loved you, you knew it. Growing up with his younger brother, Brent, there was never a dull moment. He was the mischievous older brother who was always playing a trick or telling a joke. There were so many fun times in the neighborhood with friends growing up on Lucinda Lane.
He graduated from Kingfisher High School where he played football and wrestled. He was also a Wrestling All-Stater.
He attended Labette Community College in Parsons, KS where he wrestled.
He worked in the family business of KFC, the oilfield, and later as a striper fishing guide.
He married Shannon Campbell on August 5th, 1995. They had three children: Jake Ryan Snider, Gunner Reid Snider, & Avery Claire Snider.
He enjoyed being with his kids and going to their various activities including baseball and coaching football for Jake, pig shows for Gunner, and dance recitals and softball games with Avery. He had a nickname for everyone, and deeply loved his family including his niece and nephews.
His main passion was in the outdoors where he spent countless hours hunting and fishing with family, friends, and his kids mainly at the family farm in Helena and striper fishing at Lake Texoma.
Zach was always up for a good time!!
He touched many lives and will be deeply missed!
Survivors include: Parents: Jack & Karen Snider, Sons, Jake Snider & Gunner Snider, Daughter Avery Snider; Bother: Brent Snider and wife Steph Snider, nephews: Mason Snider & Drew Snider, Niece-Raegan Snider, and numerous aunts, uncles, and cousins.
Zach was preceded in death by his maternal grandparents: Bill & Marjorie Bunch, and paternal grandparents; CW & Avis Snider.
A memorial service will be held on Wednesday, December 28th @ 2pm @ Sanders Funeral Home Chapel, Kingfisher, OK.