Perry Cline on being a cowboy: 'God has me the way I am to take care of things'
By Ruth Ann Replogle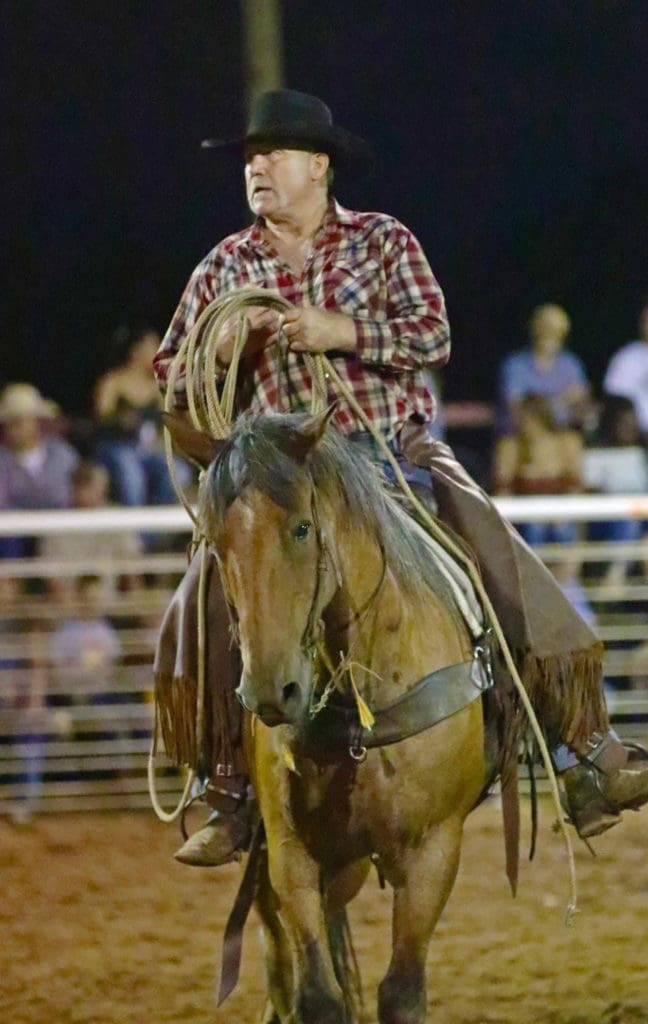 Perry Cline of Lacey doesn't just act like a cowboy on and off screen; he's the genuine thing. He also recently in real life rounded up a suspect in the unofficial role of sheriff's deputy.
"There's never a dull moment," his wife Stacy commented, adding he promised upon proposing that while they might be broke, life with him would never be boring. She said Perry has lived up to that promise in the 29 years they've been wed.
The son of a local rancher and horseman Pat Cline, Perry and his siblings grew up in the home he and Stacy have now raised their family in. They've added land to the property in the time they've owned it.
"My father was a helluva cowboy. He taught me a lot," Perry said. "When I was little, I just wanted to be a cowboy. It's a way of life; it was my way."
Alongside his dad, Perry helped raise and train draft horses. At one time, there were 500 mares on the property; "we raised a lot of colts." He remembers his dad traveling to Missouri to sell those draft horses to the Amish.
While his father is focused on raising horses, Perry is focused on raising cattle. Mexican cattle that is. He and Stacy determined the Corriente breed best suited the droughted terrain of Kingfisher and Blaine counties.
"They take less than most," Perry said. Like longhorns, Corriente will eat anything, including scrub brush, and they aren't bothered by predators such as mountain lions. "They're tough. But flavorwise, they're the best."
The Clines primarily raise Corriente cattle as rodeo stock; they frequently are seen on the rodeo circuit and related events. As a family, they run the Hennessey Open Rodeo, slated this year for Aug. 19-20 in the Hennessey Rodeo Arena, with events such as breakaway roping, bull riding, calf roping, and bronc riding.
Their children Tyrel and Charlie have grown up rodeoing—"It's been great for our family," Stacy said, describing rodeo culture as "taking care of their own." Both children, now adults, rodeoed in college, Tyrel at Southwestern Oklahoma State University and Charlie at Oklahoma State University.
Tyrel is the epitome of a modern cowboy, his parents stated. A professional steer wrestler who sells horses around the country, he uses technology to his advantage with interactive social media accounts on Facebook and TikTok.
And like his father and grandfather, Tyrel is a "bigger than life" cowboy. 
Having a larger-than-life personality, Perry just naturally attracts others, to which he doesn't mind.
He has hitched up his stagecoach and given rides around the Hennessey community throughout the years, escorting for weddings, children's storytimes, and even Santa at Christmastime. During his short stint in Colorado, Perry drove horse-drawn hearses, tracked buffalo loose on the mountain pass, and took dudes out on ranch tours.
When he's not busy with his own ranch or checking in with his wife's downtown businesses, Perry is playing cowboy behind the scenes on film.
He worked on feature films such as "Twister" and several documentaries, including one on Pat Hennessy and one more recently on Anita Waggoner, known for her autobiography "Freedom: It Begins in Vegas and Ends in Freedom" based on the tiny western town of Freedom, Oklahoma.
Perry's also been known to tickle the ivories on occasion—"my father wanted me to be a concert pianist (rather than a cowboy)," he said. He was tasked at age 7 to milk cows so as to build strong hands and took piano lessons for a number of years.
He admits the cowboy way of life is the only way for him. Being in the saddle or on the buckboard is where he prefers to be.
"When I'm on a horse, I'm like Superman," he said.
Residents in the area would likely agree. Perry believes in doing what's right and standing up for his fellow man (and woman), so he doesn't hesitate to step in to protect and serve.
He recently assisted the Kingfisher County Sheriff's Department in apprehending a suspicious person—while on horseback. A neighbor spotted a stranger camped out in his field and that stranger opened gates and let out livestock before moving closer to the Cimarron River. This person was allegedly armed too.
Perry didn't want this suspicious person causing problems for any of the single women living nearby, so he swung up on his horse and went in search of the man.
"Being a cowboy, I can track good and cover more ground," Perry said. "I know that country."
As it turned out, the suspicious person started out barefoot in the brush and eventually stripped himself of all clothes and the alleged weapon due to the immense heat.
"I found him under a tree, buck naked, in distress. He wasn't trying to run (anymore)," Perry said. Instead the man begged for help and water when Perry ushered him to awaiting sheriff's deputies. "He would have died out there."
This incident wasn't the first time Perry has assisted law enforcement and probably won't be the last. He's following his father's footsteps, he said, because his dad used to help capture people when he was a kid too.
"I'm not waiting," Perry said, indicating he's not the type to wait around as trouble brews.
He recalled once tackling an escaped convict with one handcuff still attached in a field off Highway 51 and sitting on him for a couple of hours while waiting for officers to respond. The man had stolen an Enid cop car and eluded police before Perry spotted him.
"We love this town," Perry said. "I'm not scared to get out there. God has me the way I am to take care of things. The Lord will take care of me."