HENNESSEY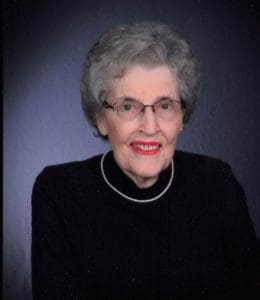 The funeral for Thelma Jo Scaia, 92 will be at 10:30 AM Saturday May 14, 2022 at First Baptist Church officiated by Jimmy Berkenbile. Burial will follow at Hennessey Cemetery under the direction of Cordry-Gritz Funeral Home.
Thelma was born in Jack County, Texas on September 4, 1929 to George Washington and Hettie Lee Cook Alcorn and died Tuesday May 10, 2022 at Hennessey Care Center.
She married Thomas Donald Scaia in Mineral Wells, Texas on May 4, 1951. The couple moved to Oklahoma in 1960 first living at Goltry. They then moved to Hennessey in 1969.
Thelma worked at Dinkler Drug from 1974 until it closed in 1989. She then worked at LaPorte Pharmacy from 1989 until 2019.
Thelma is survived by two daughters Donna Grace and husband Mike of Hennessey, Kathy Parker and husband Jim of Sulphur; four grandchildren Christina Parker, Michael Don Grace, Timothy Parker and wife Amber, Deanna Grace; seven great-grandchildren Michaela Parks, Katie Parker, Trevor Parker, Emma Grace, Gracie Michelson, Jesse and Jay Parker; two brothers Don Alcorn, Billy Alcorn; three sisters Patsy Evans, Della Joseph, Mary Linda Rhoads.
She was preceded in death by her parents, her husband Thomas Scaia, one infant son Thomas Scaia, Jr., one sister Georgie, one brother Charles, and one infant brother.
Memorial donations may be made in her name to First Baptist Church or Russell Murray Hospice with the funeral home serving as custodian of the fund.