Monday afternoon Hennessey was on full alert as a tornadic storm was approaching from the southwest. The tornado touched down a few times in rural areas but then passed several miles south of Hennessey. Kingfisher County Emergency Manager, Steve Loftis said, "So far there have been no reports of damage in the county." The Hennessey Fire Department, along with police, were out spotting to keep eyes on where the actual storm was heading. The Police opened the town storm shelter and the school opened the Eagle Event Center for residents that wanted to take shelter.
As the storm moved over Hennessey, it dumped heavy rain causing some localized flooding. Two boys took advantage of the high water at the intersection of North Mitchell and Redfork Dr. to set sail in their kayaks.
Hennessey Police and Fire had to slow the traffic near the intersection of 7th St and Hwy 81 due to high water.  Several vehicles got stalled out in deep water at 6th and Mitchell and had to be pulled out.   Tomorrow we should get a break but there are chances of storms Wednesday and Thursday.  featured photo by Roger Hill Photography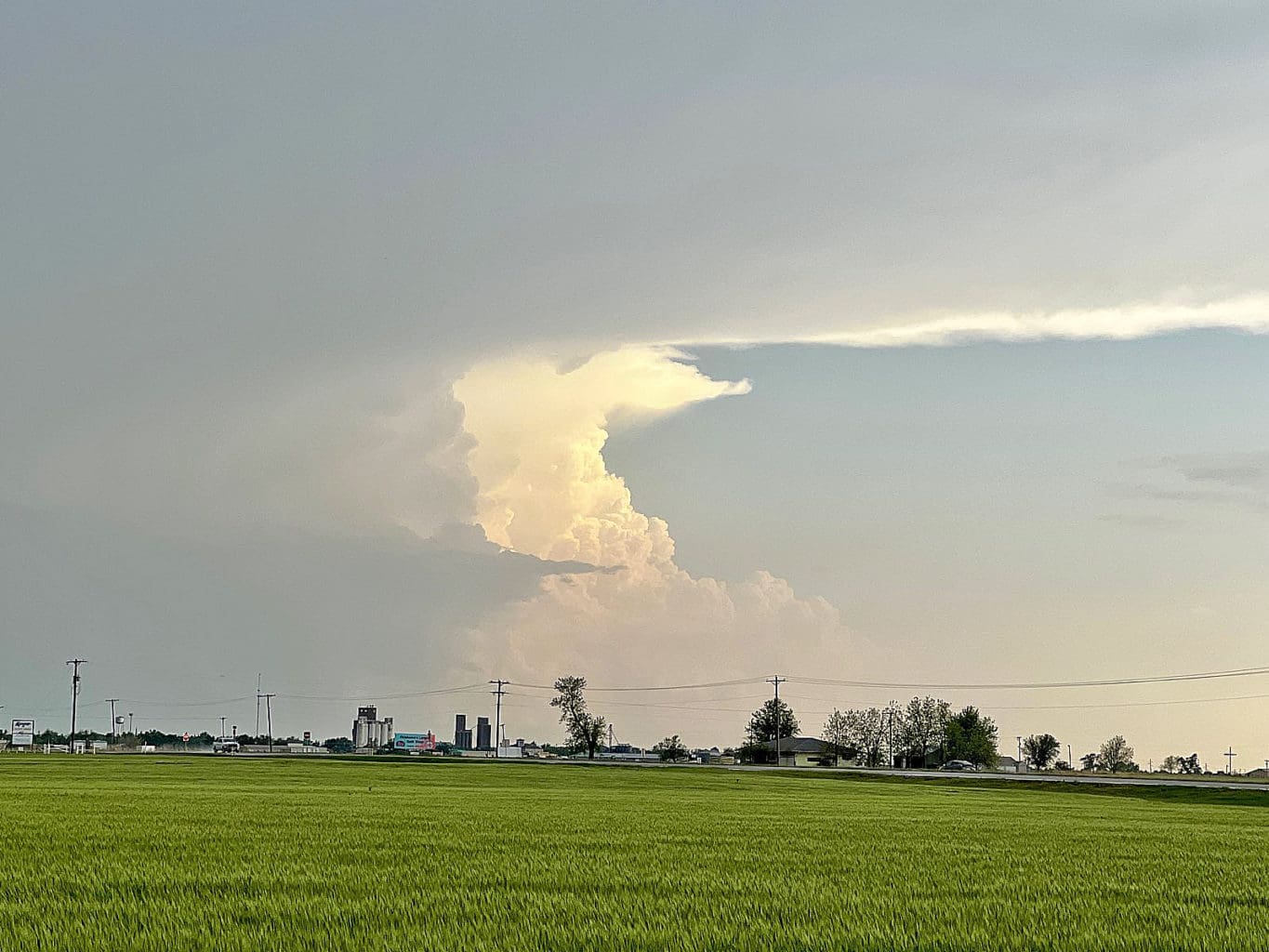 STORM INFORMATION SPECIFICALLY FOR HENNESSEY
Here 5 very important things to know about severe weather situations in Hennessey.
Tornado watch vs warning: A watch means conditions are right for a tornado. A warning means a tornado has actually been seen by a spotter or by radar. A watch means get your plan together. A warning means put your plan in action.
Severe weather days are time to be alert and prepared at all times. This means have your phone charged, as well as have a way to keep it charged, with a battery or in your car. Have your favorite weather app set to alert you if there is danger. Stay close to a source of information such as A TV, cellphone, or a radio. Keep checking All About Hennessey's Facebook page. Have a plan already worked out with your family.
Storm siren: The storm siren will only sound when our town is in imminent danger. If you hear the siren it is too late to get in your car and head to the storm shelter.
Cellphones: It is very likely that your cell phone will fail when we are in an emergency situation. The cell towers can only handle a certain amount of calls at one time. This is not the time to be posting to FB and talking to friends. All this should have happened sooner. Texting will work sometimes when your phone will not.
Do not call the police station and ask questions. They are extremely busy working with storm spotters and gathering information. Only call them if there is a true emergency.
Town storm shelters: The Hennessey Town shelter near the Library will be open anytime our county goes under a tornado warning. The Schools Eagle Event Center (The Dome) automatically unlocks when a tornado warning is issued. Do not call to see if they are open. If you do not have a shelter at home, go to the Dome or the town shelter. Don't wait until the siren is going off, that is too late.