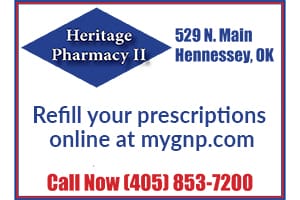 Pharmacy Technician
Licensed Pharmacy Tech to fill immediate opening with growing, busy pharmacy in Hennessey. Our locally owned pharmacy takes care of our customers and we only hire people that want to be of real service to other people.
Our employees are caring, well trained professional individuals that find reward in a job well done. They are team players and willing to go the extra mile for the customers and their coworkers. Our people are health care professionals- they look and act it. Our employees are clean, punctual, empathetic and self motivated.
In exchange for their hard work and caring, our pharmacy offers competitive wages, benefits and a superior work environment. We know that if our employees are to care, and respect our clients we must model the same to them. We provide facilities and tools that are clean, up to date and allow for efficiency and satisfaction. Employees are treated with empathy, and respect where all are treated equally. We empower our people to be the best they can be and offer the most to our clients.
If you are a currently a licensed Pharmacy Technician and it is as important to you to make a difference as it is to make a paycheck, then we need to talk.
Job Type: Full-time
Experience:
relevant: 1 year (Preferred)
pharmacy tech: 1 year (Preferred)
License:
Pharmacy Technician (Preferred)
Language:
Additional Compensation:
Work Location:
One location
Multiple locations
Benefits:
Health insurance
Dental insurance
Retirement plan
Paid time off
Flexible schedule
This Company Describes Its Culture as:
Innovative — innovative and risk-taking
Outcome-oriented — results-focused with strong performance culture
People-oriented — supportive and fairness-focused
Team-oriented — cooperative and collaborative
Stable — traditional, stable, strong processes
Detail-oriented — quality and precision-focused
Aggressive — competitive and growth-oriented