Bryan Burch with the town, drills the first hole for the new Lions Club American Flag fundraiser with help in part by the Discover Hennessey program.
The Lions Club is inviting 𝗔𝗟𝗟 𝗕𝗨𝗦𝗜𝗡𝗘𝗦𝗦𝗘𝗦 to join them in celebrating patriotic holidays by decorating the town with American flags. By purchasing a flag for your business, you can proudly display the stars and stripes on seven different holidays throughout the year.
The cost for a flag and pole is $40, plus an annual fee. For the year 2023, the prorated fee is $30.00, and for each year thereafter, the annual fee will be $70.00.
𝗟𝗶𝗼𝗻𝘀 𝗖𝗹𝘂𝗯 𝗺𝗲𝗺𝗯𝗲𝗿𝘀 𝘄𝗶𝗹𝗹 𝘁𝗮𝗸𝗲 𝗰𝗮𝗿𝗲 𝗼𝗳 𝘀𝗲𝘁𝘁𝗶𝗻𝗴 𝘂𝗽 𝘁𝗵𝗲 𝗳𝗹𝗮𝗴𝘀 𝗼𝗻 𝗲𝗮𝗰𝗵 𝗵𝗼𝗹𝗶𝗱𝗮𝘆 𝗮𝗻𝗱 𝘄𝗶𝗹𝗹 𝗮𝗹𝘀𝗼 𝗰𝗼𝗹𝗹𝗲𝗰𝘁 𝗮𝗻𝗱 𝘀𝘁𝗼𝗿𝗲 𝘁𝗵𝗲𝗺 𝗯𝗲𝘁𝘄𝗲𝗲𝗻 𝗵𝗼𝗹𝗶𝗱𝗮𝘆𝘀. The holidays on which the flags will be displayed include Martin Luther King Jr. Day, President's Day, Memorial Day, Flag Day, Independence Day, Labor Day, and Veterans Day.
To enroll, simply complete the enrollment form below and return it to Chasity Fipps at 853-7864 or Angel Molina at 620-952-3761 at InterBank, or to Tim Riddle at CSB. Join the Lions Club in showing your pride for our country and honoring our nation's heroes on these special days.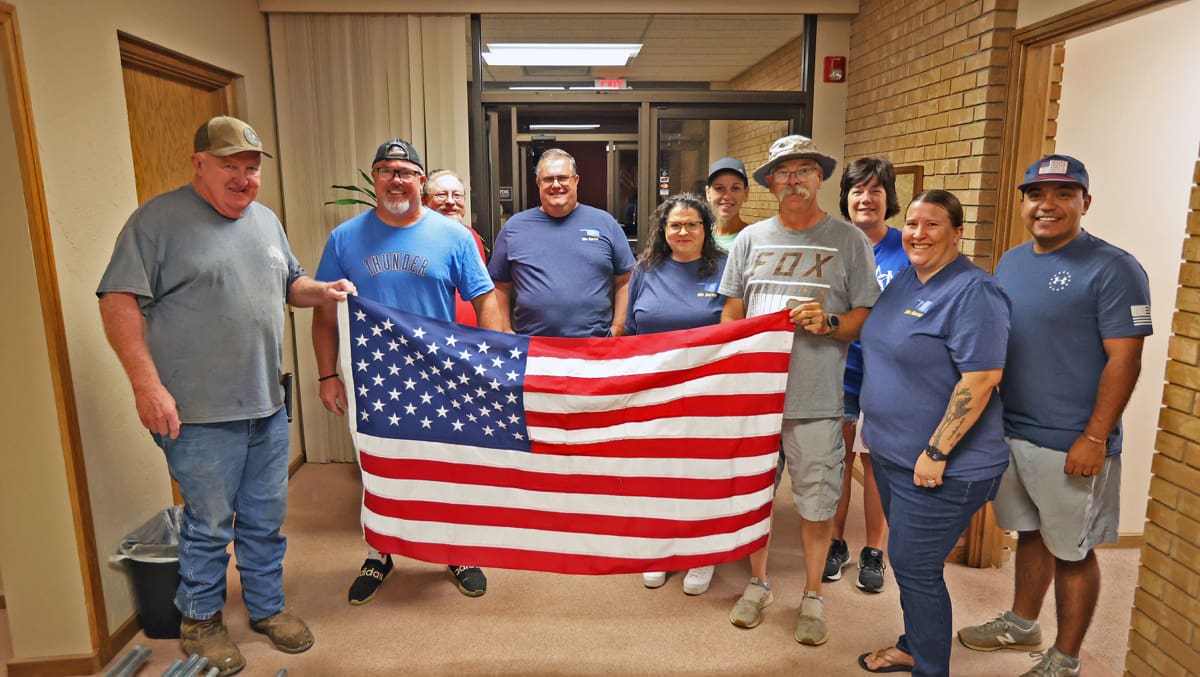 DOWNTOWN HENNESSEY LOOKED GREAT!
The downtown area of Hennessey is looking more beautiful than ever, thanks to the Hennessey Lions Club's flag initiative. The program kicked off on Labor Day, September 4th, and has already seen the participation of many local businesses. So far, 40 flags have been put up downtown, creating a stunning display of patriotism and community spirit.
The Lions Club would like to thank 4T's discount grocery, Sweet Spot Auto Supply, Eagle Mart, Farm Bureau insurance, Turkey Creek Mercantile, Painter Insurance, Woods Body Shop, Annie's Flowerhouse, Healthy Families Medical Clinic, Terry's Pump and Supply, Quick Pump Service, D&G Auto, Pizza Hut, Energy Meter Systems, Triple J Well Service, Black Diamond Threads, Interbank, Prairie Quilt, Family Cafe, Farmstead Furniture Store, Hennessey Mercantile, Honey&Co, H-Town Auto Wash, Eat It Up, Sonic Drive-in, 81 Grill and Bar, Community State Bank, Eagle, Propane, Roller Station, Casa Teja, Sparky's Eatery, Studio, 51 Hair Salon, Twenty Twenty, the Fire Department, and EMS.