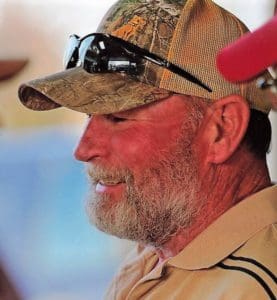 HENNESSEY Memorial service for Raymond Charles Kerby, 66 will be at 10:00 AM Saturday August 6, 2022 at First Baptist Church officiated by Jimmy Berkenbile. Cremation arrangements are by Cordry-Gritz Funeral Home.
Raymond was born in Cushing on March 25, 1956, to Ronald H. and Carol James Kerby and died Thursday, July 28, 2022, at Hennessey Care Center.
He moved to Hennessey with his family at a young age. Raymond graduated from Hennessey High School in 1974. He married Amelia Olde in Kingfisher on November 25, 1980. They raised their three children in Hennessey. Raymond has been a pillar of Hennessey for many years.
Raymond served on the Hennessey Planning Board and Hennessey Town Board of Trustees.
He loved his family, dogs, guns, and being a contract pumper.
Raymond is survived by his wife Amelia of the home; two sons Rox Kerby and wife Melinda of Oklahoma City, Grant Kerby and Misti Norris of Edmond; one daughter Autumn McFeeters of Hennessey; four grandchildren, Lexy Bourland, Marshall, Kassidy, and Makenna McFeeters.
He was preceded in death by his parents.
Memorial donations may be made in his name to the Community Action Team, with the funeral home serving as custodian of the fund.