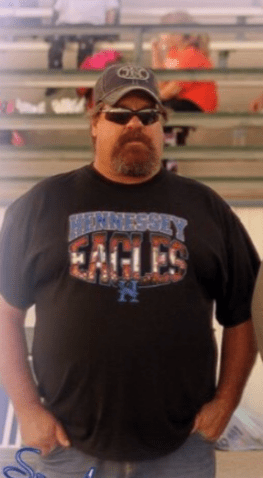 HENNESSEY
A Memorial service for Scotty L. Joyce, 54 will be at 3:00 PM Saturday May 21, 2022 at First Christian Church officiate by Rev. Ish Engle. Cremation arrangements are by Cordry-Gritz Funeral Home.
Scotty was born in Oklahoma City on April 23, 1968 to Harry and Janice Pool Joyce and died Monday May 16, 2022 at his home in Hennessey.
He married Lark Maxwell in Kerrville, Texas on May 6, 1989.
The couple moved to Hennessey in 1989. Scotty worked for Ranger Oil Field Services until 1996. He then became an over-the-road truck driver for several years. Scotty began working for Speller Oil in 2007.
He is survived by his wife Lark of the home, three sons Sheldon Joyce, Dillon Joyce, Dalton Joyce; father Harry Joyce; one brother Chad Joyce; one sister Katha Vaverka and husband Michael, all of Hennessey; two nephews Cole Joyce, Brett Joyce, and three nieces Marissa Vaverka, Madison Vaverka, and Kaullins Vaverka.
Scotty was preceded in death by his mother Janice, and one nephew Wyatt Joyce.
Memorial donations may be made in his name to Hennessey Powder and String Club with the funeral home serving as custodian of the fund.