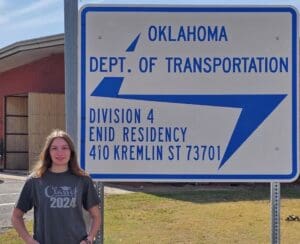 Mikayla Pearson is a senior at HHS. She is interning under Jacob Peery with the Oklahoma Department of Transportation. (ODOT) She has aspirations to be a civil engineer.
Mikayla was born in Oklahoma City and started school in Hennessey when she was a first grader. She is a member of the Hennessey Pride Band and the National Honor Society. Through NHS she has had the opportunity to volunteer at several local churches and schools including Stamp Out Hunger at the Christian Church and Heritage Night at the Early Childhood Center.
Mikayla became interested in civil engineering largely due to her father. In fact, her father was one of the engineers who designed the Skydance Bridge in Oklahoma City. During her sophomore year, she requested to job shadow with the bridge division of ODOT and was given that opportunity. Mikayla was able to see the planning, drawing, and execution plans of bridges and structures. Some of that time was also spent working on complex 3D modeling software. On her recommendations for the internship program, she received high reviews from the supervisor and engineers. Some of the words used to describe Mikayla were inquisitive, positive attitude, great problem solver, and good work ethic.
Mikayla plans on attending Oklahoma City Community College for two years and then transferring to the University of Oklahoma to earn a Bachelor's Degree in Civil Engineering.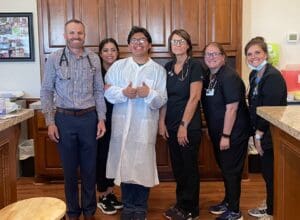 Landon Lopez is a junior at HHS. He has decided on a career in nursing and is currently interning at Complete Family Care with Dr. Ferrell and his staff.
Landon was born in Brighton, Colorado. His family relocated to Hennessey before he turned one. He has been playing the flute in the band since he was in fifth grade. He is also a member of YAHL (Youth Action Health Leadership). YAHL is a youth-led statewide initiative that promotes healthy behaviors for Oklahomans. He recently started a job at Gaviotas Mexican restaurant, where he works part-time. When he has some downtime, he enjoys watching reruns of Grey's Anatomy.
Landon had the seeds planted early on that would steer him toward a career in the medical field. His mother is a medical assistant, and he remembers as a five-year-old, traveling with his mom and watching her perform blood pressure screenings at various locations. Those memories as a young child would stay with him, and in his sophomore year of high school, he began thinking seriously about pursuing a career in nursing.
He is very excited about the learning experience he is receiving as an intern under Dr. Ferrell and his medical staff. Landon was already familiar with the staff. His mother works there and he used to work at the clinic as a janitor. It was then that Dr. Ferrell noticed Landon's strong work ethic, punctuality, and positive attitude. He didn't hesitate in accepting Landon as an intern.
Landon has been assisting patients with their paperwork and is learning how to test patients for diabetes under the careful watch of the nurses. Every once in a while, Dr. Ferrell will call him in and let him observe a patient if it is something out of the ordinary. He enjoys it so much that it is not unusual to find him in the office on days when there is no school and some weekends.
Landon would like to continue being an intern next year. After graduation, he plans on attending either UCO or OU to get a degree as a registered nurse.
Both Mikayla and Landon are part of the Hennessey School Career & Internship Program.  This program, directed by Kim Hallmark matches students with business allowing them to experience real-life day-to-day operations in a career field they have an interest in.