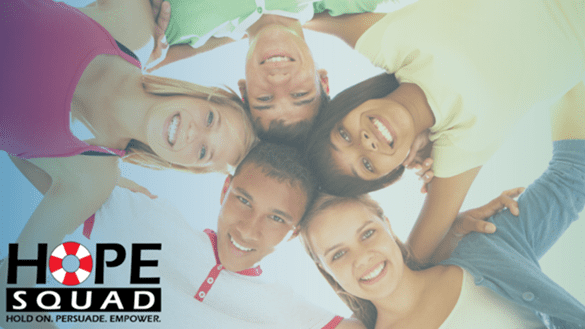 Over the last five years, serious mental health conditions and suicide rates among adolescents have increased substantially across the nation. These numbers were on the rise prior to the COVID pandemic and unfortunately the trend has continued. Allie Friesen, the system director of Behavioral Health at INTEGRIS Health, says Oklahoma is not immune to this crisis. "Since the summer of 2018, the number of child and adolescent visits to INTEGRIS Health emergency departments with the primary reason for their visit being suicidal ideation – has doubled."
In an effort to reduce this trend and save as many children as possible, INTEGRIS Health has created Community Health Improvement Plans focusing on suicide prevention. Encouraging Oklahoma schools to implement Hope Squads is a major part of this effort.
Hope Squads work to reduce youth suicide through education, training and peer intervention. Hope Squad members are nominated by their classmates as trustworthy peers and trained by advisors. They are not taught to act as counselors, but rather to be peer advocates, recognize signs of suicide contemplation and respectfully report any concerns to an adult. Hope Squads organize school activities that promote inclusion and connectedness. Hope Squad members are trained through scaffolded, evidence-based modules. Recent findings suggest Hope Squad schools have less suicide-related stigma and significantly more referrals to mental health resources than non-Hope Squad schools.
INTEGRIS Health is proud to offer Community Giving Fund grants to local schools who agree to bring Hope Squads to their campuses. The grants cover all training and curriculum costs of the program.
"INTEGRIS Health's mission is to partner with people to live healthier lives. We are delighted to partner with the Hope Squad to proactively confront the mental health crisis that plagues so many kids in our schools," says Timothy Pehrson, the president and chief executive officer of INTEGRIS Health. "We are committed to helping prevent and detect serious mental health concerns in our communities."
Dr. Gregory Hudnall is the national Hope Squad founder and executive director, he says teens themselves are a critical part of the solution to the teen suicide epidemic. "Seven out of ten young people who take their lives will tell a friend beforehand, not an adult. And that friend will never tell anyone. Hope Squads aim to change that," says Hudnall. "While it takes a village to raise a child, we believe it takes an entire community to save one."
All applications from Oklahoma schools who have district or board level approval will be considered. Please see the attached application to apply.
Anyone contemplating suicide or experiencing a mental health emergency can call 988, the state's new mental health hotline number. The helpline is the first step to a multi-level crisis response.