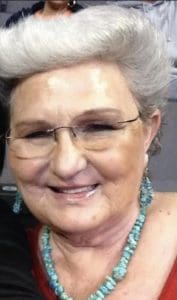 Hennessey- A celebration of life service for Marilyn Sue (Morrisett) Mewherter, 77 will be 2:00 PM Saturday, June 11, 2022, at 132 Bible Church with Lori Seigmann officiating. Cremation arrangements are by Cordry-Gritz Funeral Home.
Marilyn went to be with the Lord on June 7, 2022. She was born on July 15, 1944, to Thomas Andrew and Maggie Rosemond (Donaldson) Morrisett in Crescent, Oklahoma.
Marilyn married Jerry Mewherter from Marshall where they raised their three children Scott, Carol, and Tom. Later in their lives, they made their home in Lacey, Oklahoma.
Marilyn is survived by her children Scott and wife LaHonda Mewherter, Carol Mewherter, and Tom Mewherter all of Lacey, and multiple grandchildren and great-grandchildren that she loved dearly. She is also survived by two sisters-in-laws, Leota wife of Johnny Morrisett both of Crescent, Linda wife of Kelly Morrisett also of Crescent, and many nieces and nephews.
Marilyn was preceded in death by her parents, husband Jerry, her brothers, and one sister-in-law. Larry and Johnny Lee Morrisett of Kingfisher, Johnny Morrisett of Crescent, and Kelly Morrisett of Crescent.
Memorial donations can be made to Hennessey Nursing and Rehab. with the fu real home serving as the custodian.