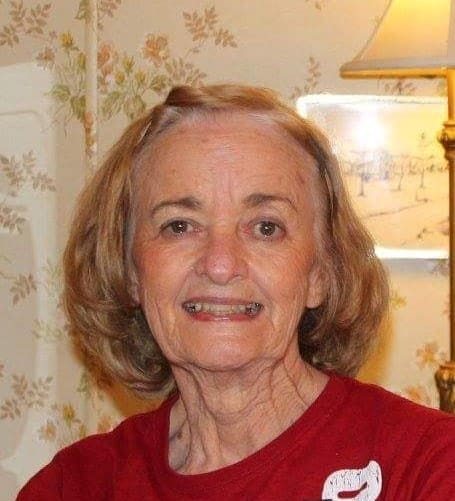 HENNNESSEY The funeral for Gay Chambers, 89 will be at 10:00 AM Tuesday March 29, 2022 at First
Baptist Church officiated by Tony Hays. Burial will follow at Hennessey Cemetery under the direction of Cordry-Gritz Funeral Home. There will be visitation with the family from 5:30-7:30 PM Monday March 28, 2022 at the funeral home.
She was born in Enid on February 15, 1933, to Ted and Eva Murphy Money and died Friday, March 25, 2022 at Hennessey Care Center.
Nita Gay Chambers lived a full, adventurous life! From a teen riding her horse from Enid to Hennessey just for fun, to helping build churches in Guatemala later in life. Gay loved the Lord, horses, the Cleveland Browns, mostly Baker Mayfield because he came from OU, sewing, cooking, Donald Trump, and of course her devoted children, grandchildren, great-grandchildren, and great-great-granddaughter. She loved that she got to meet and hold the two newest great-grandchildren just a few weeks before she went to be with her Lord.
Gay was widowed at the young age of 34, with kids ranging from 2-14. She continued to run the Conoco Gas Station while raising her family on her own. A few years later, she married Rod Means. They were very active in the Hennessey Roundup Club and enjoyed putting on annual rodeos, horse shows, and playdays. Gay loved horses and going trail riding was something she especially enjoyed. They raised quarter horses in the 80's doing business as Mean's Quarter Horses.
Gay was the manager at Bills Dollar Store for many years, as well as a manager at Dillard's in Enid, and a cook at Hennessey Schools. In 1995, Gay and Rod opened Family Books and Gifts, a Christian Bookstore. Gay had the idea to begin serving soups which eventually developed into the full-blown lunch buffet and breakfast to order that it is today.
Gay had most all of her kids, Grandkids, and maybe even Great's working there at some time!
They began having Bible Study there on Thursday afternoons and still do to this day. Gay was a very giving woman; she would regularly feed anyone needing a meal at the café. It wasn't uncommon to have random guests at family Holiday dinners! Unfortunately, the café brought an end to the traditional Sunday family dinners of fried chicken and all the extras that were enjoyed by her kids for as long as they could remember. There was always enough for one or two more – she would say "I'll just add another tator to the pot."
Later in life, Gay married Charles Chambers in 2014, and moved to his ranch in Terlton, OK. Prior to moving, she sold the café to her daughter Sara. There she enjoyed gardening in her green house and helping Charlie check on the cattle where she lived until his death in July 2020. One of Gay's dreams had been to live in a tiny home next to her daughter Sally and that dream became a reality in October 2021.
Gay loved to sew and cook and made gifts for Christmas every year, from bowl holders to OU and OSU pillowcases, calendars, jellies, candy, and cookies. Later in life she made bowl holders and wine totes with the label "Made by Gay in the USA" which were sold at the Family Café. She put a lot of time and love into these gifts.
Being widowed again, Gay knew the loneliness that comes along with losing a partner. She had a vision to begin a group of widowed men and women to fill that void for so many. The Golden Eagles began meeting at the Family Café every two weeks and right off it was apparent that there was a need for this type of companionship. Unfortunately, it wasn't long before her illness kept her from participating, but the group continues to grow and offer so much for those who have lost a loved one.
Gay touched many lives, she loved to tell others about her God, and would quietly give what she could to help those in need.
She is survived by three daughters Sally Witzke and Wayne Crump, Sandra Hardin, Sara Fisher and husband Trey; three sons James Streck and wife Trisha, John Streck and wife Shelly, all of Hennessey, Andy Means and wife Lynn of Edmond; twenty-five grandchildren, numerous great-grandchildren, and one great-great-grandchild; stepchildren- Cindy and Ronnie Kerby, Brant and Deedra Means, Bruce Means, Patricia Sunday, Cathy Downey, and Brenda Emery.
Gay was preceded in death by her parents, husbands Jim Streck and Charles Chambers, one daughter Suzanne Choate, and one sister Donna Messal.
Donations may be made in her name to the Golden Eagles with the funeral home serving as custodian of the fund.