HENNESSEY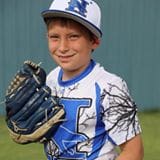 The funeral for Logan Wyatt Whittenburg, 11 will be at 1:30 PM Monday December 23, 2019 at Hennessey Public School Auditorium officiate by Rev. P. J. Stewart. There will be a private family interment at Hennessey Cemetery under the direction of Cordry-Gritz Funeral Home.

Logan was born in Oklahoma City on July 6, 2008 to Austin and Hannah Means Whittenburg and died Wednesday December 18, 2019 at St. Francis Children's Hospital in Tulsa.
Logan was a fifth grader at Hennessey Elementary School and loved little league baseball and football. He attended First United Methodist Church.
Logan is survived by his parents Austin and Hannah Whittenburg, two brothers Beau Whittenburg and Maverick Whittenburg; paternal grandmother Jami Whittenburg, paternal great-grandparents Claude and Helen Whittenburg; his aunt McKenzie Jackson; maternal grandparents Brant and Deedra Means, all of Hennessey; great-grandfather Rod Means of Enid; great-grandmother Suzan Blake of Oklahoma City, uncle Matt Means of Hennessey; aunt Jessica Wilson and husband Landon of Carrier; grandfather Ray Graham; Albert Graham; stepmother Sydney Graham, stepbrothers Cole Graham and Bentley Graham.
Logan was preceded in death by his great-grandparents Gay Whittenburg, and Sonny and Sally Hixon.
Memorial donations may be made in his name to the Shriners Hospital with the funeral home serving as custodian of the fund.