HENNESSEY
The funeral for Ruby J. Johnson, 102 will be at 1:00 PM Tuesday June 4, 2019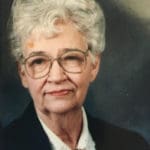 at First Christian Church officiated by Rev. Drew Kirtley. Burial will follow at Hennessey Cemetery under the direction of Cordry-Gritz Funeral Home.
Ruby was born at Wynnewood on February 23, 1917 to Joseph and Ola Taylor Allis and died Friday May 31, 2019 at Hennessey Care Center.
She married Roy Johnson in Wynnewood on May 31, 1941. The couple moved to Hennessey in 1945. They owned and operated Roy Johnson Lumber Company from 1957 to 1991. Ruby was also a telephone operator for many years for Western Light and Telephone Company and later Pioneer Telephone.
Ruby was a member of First Christian Church where she was also a Deaconess, the American Legion Auxiliary, Hennessey Lioness Club, and Hennessey Senior Citizen Center as well as a number of card clubs.
Her greatest joy in life was spending time with her family. She especially loved the time spent with the grandchildren, great-grandchildren, and great-great-grandchildren.
She is survived by one daughter Gwen Lee and husband Darrell of Hennessey; one grandson Steve Lee and wife Sherri of Enid; one granddaughter Stacey Schovanec of Hennessey; five great-grandchildren Kaylin Delisle and husband George, Chelsey Siltman and husband Jonathan, Katie Lee, Jake Schovanec, Jessie Schovanec; three great-great grandchildren Noah Delisle, Thomas and Nathan Siltman.
Ruby was preceded in death by her husband Roy Johnson three sisters and two brothers.
Memorial donations may be made in her name to First Christian Church, Hennessey Senior Citizens Center, or the Alzheimer's Association with the funeral home serving as custodian of the fund.