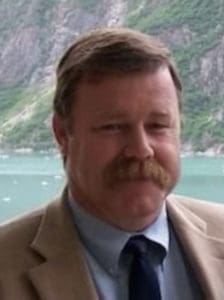 Richard Wayne McConnell, 64, of Wellston, OK traded his earthly boots for a new robe in Heaven on Thursday, October 13, 2022. He was surrounded by family and friends and died listening to his favorite hymns, one of which was sung by Elvis. (Not Jailhouse Rock, but good guess.)
Wayne was the son of Margie McConnell and the late Warren McConnell. He grew up in Hennessey with his sisters, the late Janice Kerr, Linda McConnell, Kathy Stegall, and his brother Warren McConnell. Wayne shared his father's love and joy of all genres of music and delighted in regaling anyone he could hold hostage with songs, stories of songs, and the history of the particular artist he was fixed on at the moment. He had many fond memories of all the camping trips the family would take to different state parks, sleeping under the stars, and bringing the family pets along for the ride. His sisters remember him bringing encyclopedias for some light reading on trips as well. He was fairly accomplished on his trumpet and enjoyed many band trips and competitions.
Wayne chased a cute little redhead he met in Stillwater until he convinced her that he was a keeper. Wayne and CharlaAnn were married at Witcher Baptist Church on February 29th, 1980. He was quick to remind people that they married on a leap year so that he'd only forget the date every four years. Wayne was a plumber by trade; he and CharlaAnn started McConnell Plumbing in 1985.
Wayne loved playing cards, board games, and dominos, but his favorite game was Acquire. Many chores were given to any child who dared beat him or who chose to challenge his honesty in any game. (Although many of the words he claimed in Scattergories are still hotly debated in family discussions to this day.)
Over the years, he and CharlaAnn welcomed more than 30 foster and needy kids into their home, treating them just like family, as well as a multitude of others that simply needed a place to stay. Many of those same kids have returned in their adult years to say thanks, a few even reintegrating back into the family fold.
His legacy is continued by the red-headed girl he met on the campus of Oklahoma State University who became his beloved wife of 42 years, CharlaAnn, his son Spence McConnell and wife Jayleen, son Tucker McConnell and wife Lesley, son Will McConnell and wife Charity, son Tobiah McConnell and wife Cortney, son Drake McConnell, daughter Meg Stewart and husband Jesse, daughter-in-law Christina Perrine, son David Durham and wife Misty.
Wayne is preceded in death by his father Warren McConnell, sister Janice Kerr, and son Chris Perrine.
There are 35 grandkids, with 2 on the way, and one great grandchild that will miss their Pap's myriad stories, history monologues, and jokes that they may or may not repeat to their parents. His passing will also be felt by numerous nieces and nephews as well as brothers-in-laws Rick Kerr, Tom Backiel, Gerald Stegall, and sister-in-law, Jenni McConnell.
Wayne had requested that in lieu of flowers or floral arrangements, donations be made to Trinity Baptist Church Campground in Wellston, OK.
The family would be pleased to invite any and all family and friends to celebrate Wayne's life and memory with us at the Wellston High School Gymnasium 10:00 a.m. October 22, 2022. Arrangements are under the direction of Lehman Funeral Home of Wellston.