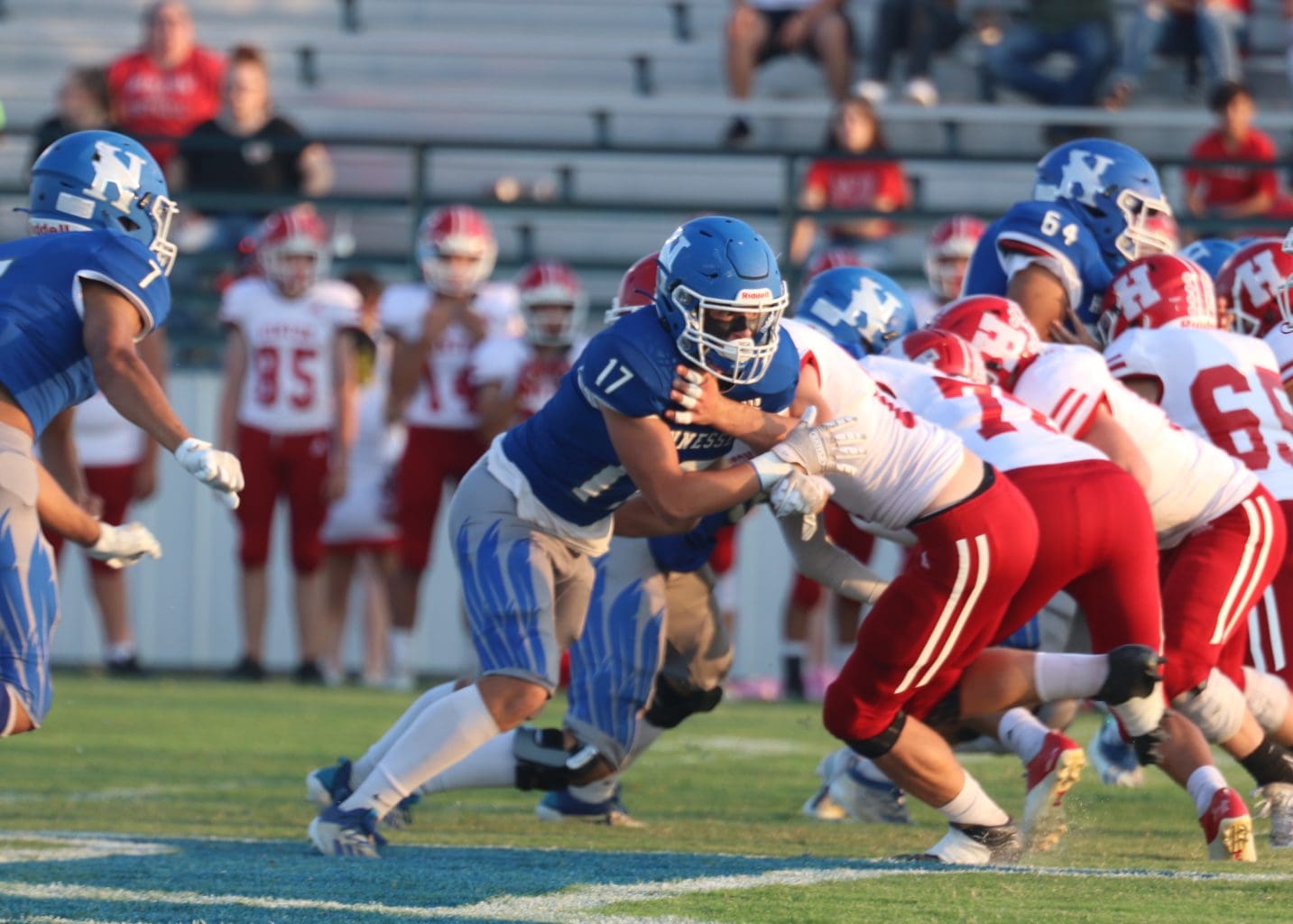 Round 3 of the 2022 Regular Season and Round 3 of the Home-and-Home Non-District battle between the Hennessey Eagles and the Hinton Comets (2-1) found the Eagles bouncing back from a thumping the week before at the hands of the Class 2A #7 Ranked Crossings Christian Knights and exerting revenge on the Class A #8 Ranked Comets following last season's home beat-down and a narrow 1-point loss (under very suspicious circumstances) in 2020 at Hinton.
The two teams traded blows (and punts and turnovers) for almost the entire first half until the Comets put together a scoring drive of 6 plays, 62 yards, finishing the drive with a 15-yard Touchdown Pass and PAT with just over 2 minutes remaining in the half.  The visitors would only have one more scoring drive the rest of the game, with the Eagles quickly responding less than a minute later with their own 3-play drive, set up by a good Kick Off Return by Weston Smith, then two long pass completions, scoring on a 35-yard Touchdown Pass from Titan Hix to Seth Simunek.  
That score, to close out the first half, was the beginning of 21 straight points for the Eagles through the arm and legs of Titan Hix on Offense and the brilliant game plan of Defensive Coordinator Evan Sprayberry, with stellar execution from the entire Defensive Unit, allowing Zero 3rd Down conversions (0 for 4), Zero 4th Down conversions (0 for 2), forcing 2 Punts, getting 1 Fumble Recovery, and owning Time of Possession 15 minutes to 9, in the 2nd Half of play.
That Defense, anchored by Senior Safety Brandon Valles' (#7) 6 Tackles, 3 Assists, and 1 QB Sack, which earned him his 2nd consecutive MaxPreps Defensive Player of the Game, with the entire Linebacker core making their own statement, led by Sophomore Jessin Hardin's (#15) 7 Tackles and 1 Assist, Freshman Linebacker Mauricio Valles (#21) with his 7 Tackles, and Sebastian Gonzalez' (#1) 4 Tackles, 2 Assists, and 1 Fumble Recovery.
The Eagles' scoring was capped off with a pin-point dart from Hix to Wideout Kevin Trillo followed by a fantastic catch and run behind downfield blocking from Weston Smith, for Trillo's 3rd TD grab of the season, finishing the Comets' hope with an Eagles 27-14 home field victory.
Freshman Quarterback Titan Hix (#9) led the Eagles offensively going 15 for 22 with 1 Interception, 215 Yards and 3 TDs Passing, adding 94 Yards on 23 Carries, 1 TD and a 2-point Conversion Rushing.
Seth Simunek (#4) was on the receiving end of 6 of those throws getting 136 Yards and 2 Touchdowns, the Senior's 4th time in 11 games to have over 100 Yards Receiving. Simunek's 13 Career Receiving Touchdowns has him just 1 short of tying Jerry Ashcraft (1982-1985) and Jose Sanchez (2011-2014) for 4th all-time in HHS history.
Trillo (#10) followed with his 40 Yard TD catch. Weston Smith (#2) added 5 Receptions for 21 Yards, Sebastian Gonzalez had 3 for 19 Yards, with Langston Smith (#44) hauling in 1 catch for 5 Yards.
The victory now closes out the Non-District schedule for the Hennessey Eagles (2-1), and with a bye next week, the Eagles have a few extra days to heal up and prepare for their Class 2A District 1 schedule, beginning on the road in Edmond, Friday, September 23rd at #13 Ranked Oklahoma Christian School (2-1).
-EAGLEVOICE, Photos by Kenda Copeland