James Franklin Edgar: 1/25/1939 to 8/20/2022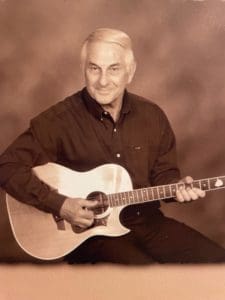 James Franklin Edgar: 1/25/1939 to 8/20/2022
Born January 25, 1939 in Hayward, Oklahoma to Robert Emmet Edgar and Pearl Maxine Craig. James or Jim as most people called him attended Perry Schools and competed in Football, Baseball and Wrestling. He was Wrestling Captain for 2 years, a member of the National Honor Society, Boy's State, Teen Town Mayor, and Lettermen's Club and Received the Football Lion's Award. He received a full scholarship to wrestle at the University of Oklahoma in Norman. He completed the first semester and much to his mother's displeasure left school to pursue music. Growing up he learned to play guitar at age 12 from his neighbor Carl Bunch. He didn't read music but could play by ear after hearing the song. He married his high school sweetheart Beverly Jo Million on January 23, 1960. They had two children Larry Lynn Edgar and Kathy Denise Edgar Lough. Beverly was diagnosed with pancreatic cancer in October 1964 after the birth of her daughter. She passed in May 1965 the following year.
Jim marries Deanie Edmondson Graves in 1971, she had two sons, Slade and William (Billy) Graves. They would be together until her death in October 2021.
Jim had started playing sock hops and clubs while in school and soon rose to the top of the local Rock and Roll scene. Jim Edgar and the Roadrunners were an Oklahoma City based band that influenced many other local bands and artists during the 1960's. Jim Edgar is known as the "Godfather" of the Oklahoma City Rock and Roll scene. Their singles reached good positions on the local charts and his version of Apartment #9 sat at the local WKY top hits at number 5. In the mid 1960's the most successful era, The Road Runners were composed of Jim Edgar, Sam Edwards, Farland Stanley, Larry Marcum and Jimmy Driskol.
In 1966 Jim and his group was the first to appear on the new program by Ronnie Kay titled The Scene. The Scene ran on WKY-TV from 1966 to 1974. The show was able to feature many national recording act that were appearing in Oklahoma City
Jim Settled in Perry, Oklahoma and became an employee of the Ditch Witch Corporation where he worked for 25 years. He continued to give concerts for many years with various musicians rounding out the band. In the 80's the group recorded and album titled "Diggin the 80's", this album contains versions of Chuck Berry, Buddy Holly, Waylon Jennings, Roy Orbison, Everly Brothers and a review of one of their most popular songs in the 60's "Apartment #9".
Jim Edgar and The Roadrunners were such a well-loved band in the 60 & 70 it earned them a spot in the Oklahoma History Museum in Oklahoma City in the Rock and Roll Hall of Fame section.
He continued to perform dances and events and was always a draw at the local Cherokee Strip Celebration each year in Perry. Most of his life Jim spent every Friday and Saturday preforming. He did many dances at lodges or anywhere someone needed or wanted a band. In his 70's he slowed down and started to sing with a group in Morrison Oklahoma doing mainly Christian songs.
He passed peacefully in his sleep on Saturday August 20.
He will be laid to rest next to his wife of 50 years in in Glenwood Cemetery. Services will be at Eden Chapel Church at 9211 S Fairgrounds Road Stillwater, Saturday, Sept 3 at 10:00.
Jim loved the outdoors, he loved fishing, hunting camping and gardening. He had a fondness for dogs and helping others. When asked what he wanted to be remembered for he wrote, "Determination and a will to win or succeed in your accomplishments."
Jim is survived by this brother, Rex Edgar and wife Dovie of Tulsa. Nephews Jeff Edgar of Texas and Brian and his wife Lisa of Tulsa. Daughter Kathy and her husband Luke Lough of Hennessey. Son's Slade and his wife Donna Graves of Orlando, and Larry Edgar of Perry. Five grandkids: Taylor, Carson and Garrett Lough of Hennessey, Ty Graves and wife Karah of Orlando, Britni Nealis and husband Brad of Orlando. Scott Edgar of Perry. Five great grand kids, Kimberlyn and McKinley Graves, Amberlee Nealis , Jacob Lough and Tate Edgar.